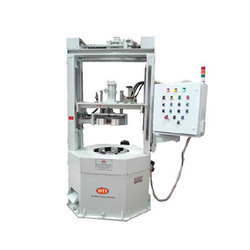 SPM Hydraulic Hole Piercing Machine
Product Description
SPM Hydraulic Hole Piercing Machine

Product Details:
Minimum Order Quantity : 01 Number
Automatic Type : Automatic
Usage/Application : pump industries
Capacity :15 ton
Brand : presstech
Control Type : Hydraulic
Material : Mild Steel
No of Holes at a time : 8
Diameter of holes : upto 15 mm
We are offering SPM Hydraulic Hole Piercing Machine to our clients.
Features:
Machine shall be generally as per SPM standard.
Hardened & ground machine components in appropriate material.
Heavy duty bottom base and top ensure accurate displacement of punching during operation.
The top/bottom pusher/cushioning Slide operated thru Geared Motor guided with LMG and Ball Screw ensure precise displacement during height adjustment of motor body.
The Piercing die set placed in the bottom for easy and fastsetting
Inside space of machine can be modified according to customer requirement.
Job clamping from top side by pneumatically operated cylinder guided with LMG and Ball Screw.
Machine suitable for 8 holes at a time unto dia. 15 mm
All the hydraulic accessories will be Renoth,Yuken, Dowty make.
Machine will work both in auto and manual mode.
Operation control thru two hand push buttons with all the safety measures.
Suitable for hole making purpose in any tubular component.
Capacity of machine at present 15 ton. Can increased according to requirement.