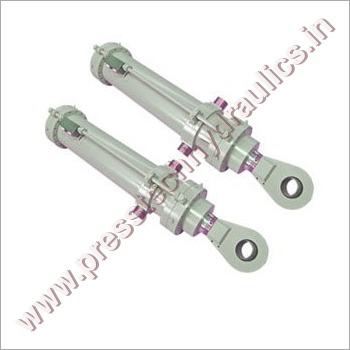 Standard Hydraulic Cylinders
Product Description
Standard Hydraulic Cylinders offered find wide usage in areas like steel plant, cement industry, chemical and refinery among others.
Features: Cylinders coming designed and developed using precision process technology support Available in bore options of 40 to 1000 mm
Specifications: Rod options available in choices of 12 to 500 mm Rod featuring hard chromed finish Plate options of Cr, Ni or ceramic Can be provided with design pressure capability of maximum 700 bar Quality valves and seal support for secure and safe usage Product backed by industry certifications Available in material options of carbon steel, alloy steel, stainless steel.
We manufacture ISO preferred, Medium and High pressure Cylinders – 32 up to 600 mm Bore and up to 5000 mm Stroke.
Different Construction:
Welded
Tie – rod
Mill type
Bolted type
Telescopic
Magnetic
Ram type
Block type
Double end ram type
With different Mounting options.
Features and Benefits:
The Piston Rod is toughened, ground, hard chrome plated and polished to ensure a smooth, dent & rust resistant surface for best sealing and long life. The Cylinder Tube is to meet close standards of straightness, roundness and surface finish for longer seal life and performance.